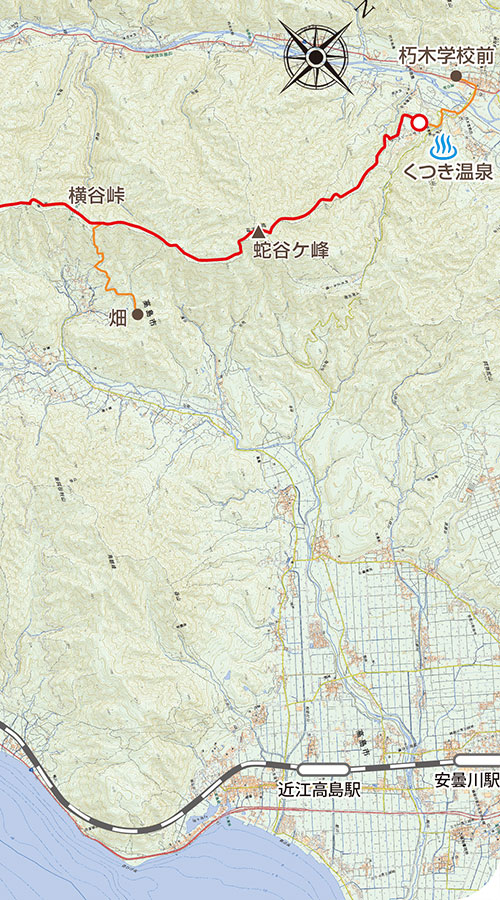 Walking distance About10km Time required About6 hours
* The time required will differ during snowy periods.
From the terraced rice fields, chosen as one of Japan's 100 best, climb up Mt. Jadanigamine, the northernmost part of the Hira Mountain range. The view from around the summit is unobstructed, and you can see right across the northern section of Lake Biwa. Wash away the sweat at Kuchiki hot spring sky.
★Lake Biwa and Mt. Jadanigamine Recommended points
Omi-Takashima st. Bus Stop

field

Yokotani-Tōge Pass

Takidani-no-atama

Mt. Jatanigamine

Kuchiki hot spring sky

Kutsukigakkomae Bus Stop

JR Adogawa st.
▲Click to enlarge image
Route gallery
*We look forward to receiving your submissions for the route gallery.
*Please include comments with your photos where possible.
*Please upload your photos to a service such as Gigafile, and the the upload URL using the inquiry form.
*If you are unable to publish your name, please indicate so in the "inquiry details" section of the form.
Local information
*We look forward to receiving your submissions regarding information on the local area.
*Please send photographs / descriptions / websites for reference by email.
*Regarding the order of publication, we will give priority to supporting members and those who have made donations.
*To join as a supporting member, please go to the Support page.